PSHE
Subject leader - Miss A.McIntyre
Attribute champions:
Conduct -Rhys R (yr3), Jasmine L (yr4), Maise C (yr5), Phoebe G (yr6)
Kindness - Anabella C (yr3), Shelby S (yr4), Eliza E (yr5), Ellie K (yr6)
Independence -Rosie P (yr3), Mariella G (yr4), Demi W (yr5),Ethan S (yr6)
Presentation - Harvey T K (yr3), Mia L (yr4) Klara B (yr5), Saffron L (yr6)
Resilience - Mia D (yr3), Kaitlyn H (yr4), Aadhya G (yr5), Olly H (yr6)
Our PSHE curriculum aims to raise pupils' self-esteem and confidence, and understand the importance of safe and stable relationships that promote respect, love and care. We develop the skills for our pupils to lead a healthier and safer lifestyle. We promote gender equality and equality in relationships and challenge gender stereotypes and inequality.
At Kemsphott Junior School, we follow the scheme of work for PSHE called SCARF: Safety, Caring, Achievement, Resilience, Friendship. This scheme also includes Relationships Education, Relationships and Sex Education (SRE) and Health Education.
The SCARF scheme supports pupils social, moral, spiritual and cultural development and provide all pupils with appropriate and essential safeguarding knowledge to enable them to know they can ask for help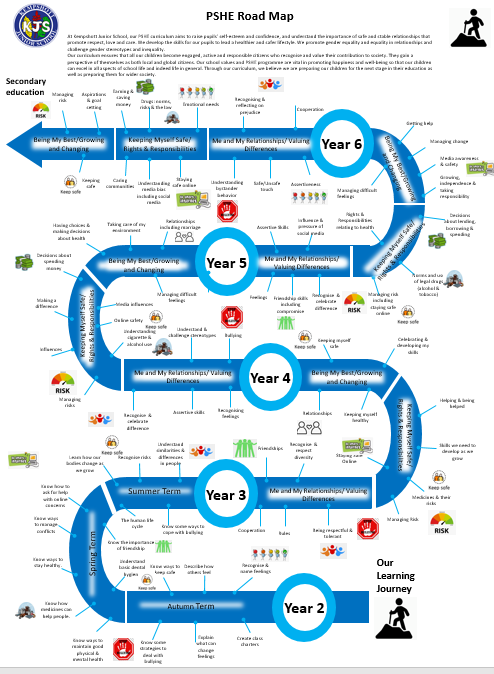 Implementation
Each class has a weekly PSHE lesson which is build upon from previous learning. We teach PSHE in a variety of ways including circle time, role play, discussion, debate, music etc to ensure the learning is creative and engaging for all learners.
There are always occasions where teachers may feel it necessary to teach PSHE as a result of an issue that has arisen in their own class. Many objectives from the curriculum will also be covered as an important part of school assemblies, where children's spiritual, moral, social and cultural curiosity is stimulated, challenged and nurtured. The distribution of the lessons complements key campaigns throughout the year, such as National Anti-bullying Week and E-safety Week.
Teachers follow a Primary Scheme of Work called SCARF - Safety, Caring, Achievement, Resilience, Friendship (Coram Life Education). Developed by teachers and centred on a values-based and 'Growth Mindset' approach, SCARF's lesson plans and resources help to promote positive behaviour, mental health, wellbeing, resilience and achievement. There is now a proven link between pupils' health and wellbeing, and their academic progress. Crucial skills and positive attitudes developed through comprehensive Personal, Social, Health and Economic education (PSHE) are critical to ensuring children are effective learners and SCARF provides a whole-school approach to building these essential foundations – crucial for children to achieve their best, academically and socially.
SCARF lesson plans are organised around the PSHE Association's Programmes of Study Learning Opportunities, which includes three core themes of Health and Wellbeing; Relationships; and, Living in the Wider World. These themes have been broken down into six main areas for termly coverage, and are ordered as follows:
Each year group covers the same six core themes:
1. Me and My Relationships
2. Valuing Difference
3. Keeping Myself Safe
4. Rights and Responsibilities
5. Being at My Best
6. Growing and Changing.
SCARF is a spiral curriculum, which means that the children cover these same six themes every year, and each time they encounter a theme, it increases in complexity and reinforces previous learning. This continual revisiting with a changing focus ensures that learning becomes embedded and children continue to build upon and deepen their knowledge and understanding in all PSHE and RHE areas.
This also includes the statutory RSE.
In addition to dedicated PSHE lessons, many other curriculum subjects make a link to PSHE, British Values, SMSC and the language is used consistently by all staff.
Impact
Our curriculum ensures that all our children become engaged, active and responsible citizens who recognise and value their contribution to society. They gain a perspective of themselves as both local and global citizens. Our school values and PSHE programme are vital in promoting happiness and well-being so that our children can excel in all aspects of school life and indeed life in general. Through our curriculum, we believe we are preparing our children for the next stage in their education as well as preparing them for wider society.
Curriculum Overview Progression Overview SCARF planning PSHE policy
Picture News & Assemblies
We use 'PictureNews' in our year group assemblies to help us learn about current affairs and issues in the world around us. We learn about British Values, the protected characteristics, and practice democracy through debating and voting about a news story each week.
Relationships and Health Education (RHE)
Some aspects of RHE overlap with the national curriculum for Science, such as the main external body parts, the human body as it grows from birth to old age (including puberty), and birth and reproduction. Therefore, children cannot be withdrawn from these lessons. Conception is the only part of RHE which isn't part of the Science curriculum, and so the only small amount of non-statutory sex education that is included in SCARF is covered in a Year 6 'Making Babies' lesson.
RHE Policy