Music
Subject leader - Mrs M.Kilgannon
Subject Champions - Jessica K (yr3),Eliel M (yr4), Nicola W (yr5), Leo P (yr6)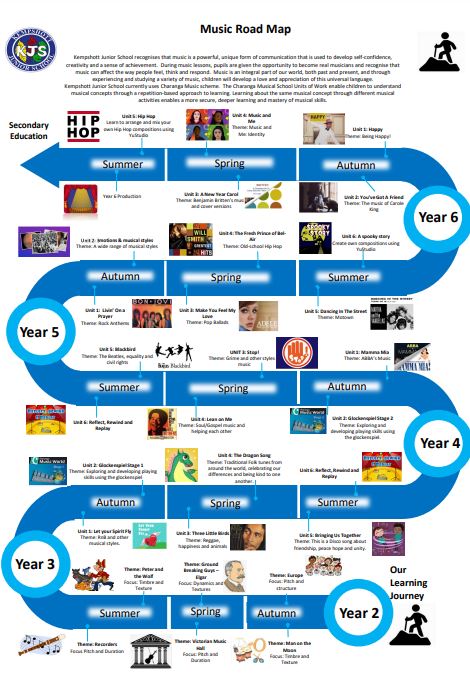 Intent.
Kempshott Junior School recognises that music is a powerful, unique form of communication that is used to develop self-confidence, creativity and a sense of achievement.
Music is an integral part of our world, both past and present, and through experiencing and studying a variety of music during their time at Kempshott Junior School, children will develop a love and appreciation of this universal language.
The children will gain an understanding of what music is through listening, singing, playing, evaluating and composing across a wide variety of historical periods, styles, traditions and musical genres.
Children are given opportunities to learn instruments with Hampshire Music Service peripatetic teachers. Children are able to join music clubs as well as these music lessons to further develop their love of music and are given opportunities to perform and share their talents through BPSM concerts, school concerts, Christmas productions, Harvest, Christmas and Easter services.
Implementation
The music curriculum ensures children sing, listen, play, perform and evaluate on a regular basis within classroom lessons and activities along with weekly singing assemblies.
During music lessons, pupils are given the opportunity to become real musicians and recognise that music can affect the way people feel, think and respond.
Kempshott Junior School currently uses Charanga Music scheme which is designed specifically for the teaching of music in primary schools. The Charanga Musical School Units of Work enable children to understand musical concepts through a repetition-based approach to learning. Learning about the same musical concept through different musical activities enables a more secure, deeper learning and mastery of musical skills.
Through Charanga, teachers are able to produce inclusive lessons for all children to access the musical curriculum in a fun and engaging way, further promoting a love of learning.
In the classroom, children learn how to play tuned and un-tuned instruments, how to read notation, to improvise and compose to a variety of musical genres and styles.
Staff will often use background music in the classroom whilst children work to create a calm atmosphere.
Extra-Curricular opportunities include:
Performing in the school Christmas and summer concerts.
Attending music clubs, such as recorders, orchestra and choir.
Peripatetic music lessons.
Taking part in the Basingstoke Primary Schools Music concert at The Anvil in June.
Impact
Kempshott Junior School pupils will be given the skills and knowledge to understand the impact that music can have on our lives and cultures and how it can play an integral role in our emotional wellbeing.
Teachers and HLTAs use the evidence gathered throughout the year to form an annual assessment for each child which is shared with parents and the music lead teacher.
This is used as part of their ongoing monitoring and evaluation of their subject area along with pupil conferencing, recorded evidence and book monitoring.
We aim to give children high aspirations which will enable them to foster a lifelong love for music and the confidence to continue to play and enjoy music into their adult lives.
Music Overview Music progression